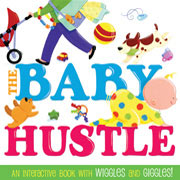 Written by Jane Schoenberg
Illustrated by Liz Conrad
978-1-4169-80506
Little Simon, Simon and Schuster
Download song from
The Baby Hustle at:
www.learnwithabeat.com
Buy book at:
Amazon.com
Barnes and Noble
The Baby Hustle
An Interactive Book with Wiggles and Giggles
Whether you're going away for the weekend or just across the street, Moms and Dads do the baby hustle every time they get set to walk out the door. So wiggle and giggle and sing along with Baby, as you and a little one share this novelty board book with movable parts. Getting ready to leave the house has never been so much fun!
Praise:
Publisher's Weekly
All Aboard! Here's the latest in board books for littlest readers:
"Shake, shake, shake, let's do the baby hustle. It's not easy getting this show on the road!" As baby's parents try to prepare for an outing, baby throws diapers, plays peek-a-boo, and loses a shoe. Young readers should enjoy the interactive elements--making the baby's bottom shimmy...
Lehigh Valley Express-Times - Summer 2010 Reading Guide for Kids
 ... Baby is having fun playing, unpacking the diaper bag, and dancing the baby hustle. Will they ever be ready to leave? A fun rhyming story with adorable interactive moving parts, this book is loaded with fun.