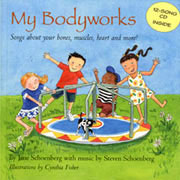 Written by Jane Schoenberg
Music by Steven Schoenberg
Illustrated by Cynthia Fisher
1-56656-583-9 Crocodile Books, Interlink
Download songs from
My Bodyworks at:
www.learnwithabeat.com
Buy book at:
Amazon.com
Barnes and Noble
Indiebound
My Bodyworks
Songs About Your Bones, Muscles, Heart And More!
How many bones are in each of your feet? If you never cut your hair, how long could it grow? Where is the gluteus maximus? Why do we pass gas? Find out how your body works, and sing along with twelve cool songs that promise to keep you and the whole family rocking.
Praise:
"A splendid book for all the senses. The illustrations are lively and delightful." - Eric Carle
"What a delicious combination of talents: lyrics, music, and facts all together. This one is earmarked for my twin granddaughters who are just the right age for it." –Jane Yolen
National Science Teachers' Association and Children's Book Council (NSTA-CBC) Outstanding Science Trade Book selection for 2006.
Best Children's Books of 2006, Bank Street College 2006
Kid's Radio Mania Family Favorite Awards Best Album 1st Place Award
Parents' Choice Recommended Award 2005
2005 Children's Music Web Award Winner Best Educational Recording for Young Children
Honorable Mention in 2005 International Songwriting Competition Best Children's Music Category
Featured on Weekend Edition with Scott Simon–NPR